Make travel plans WITH your dog this year. Here's what to do now, to make it all as stress-free as possible.
With 40 degree weather a not-so-distant memory, and the 12-day-deluge just behind us, it seems hard to believe….but summer travel season is fast approaching.  Since my sincere wish for all of you is to share as much of your lives as possible with your dogs, let's take some time now to plan for summer travel to be part of that.
I've included my dogs on my road trips and family vacations for over a decade, and have learned many things along the (sometimes hard) way.  Let me spare you some of the pain!  For the next month or so  (maybe longer if we really get on a roll!), I'll be posting bite-sized chunks of ways you can prepare to make travel with your dog relaxing and fun.
First, a plan
I know, I know…you might be the type for whom vacation should not be super-structured.  Maybe you like to roll out of bed, grab some coffee, figure out what's for breakfast sometime before noon, and see what the day will bring.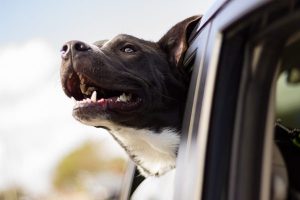 You can still have that, come vacation time! But I encourage you to take a few small, easy, steps now. Get some of these details lined up to make that lazy morning a reality, and pretty much everything else as hassle-free as possible.
Health Check
Review your dog's health care, and if necessary, schedule a vet visit.  Will you need any vaccinations? Bordetella may be required by your destination accommodations, and is usually only "valid" for 6 months.
Are you headed to areas where lyme disease or leptospirosis are of particular concern? Is your dog's rabies vaccination current? (and can you put your hands on his rabies tag AND vaccination certificate?)
You may also need to begin physically conditioning your dog, if your travel plans include a lot more physical activity than your normally engage in with him.  Your vet can advise you how to do this safely and sensibly.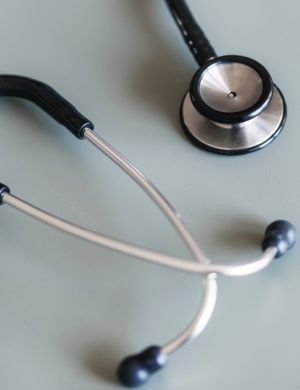 Medications
Do you have your dog's regular medications on hand, and refills to get you at least through your vacation time? How about flea and tick and heartworm preventatives, if you use them?
You might wish to research and stock up on emergency medications for insect bites/stings, tummy issues, ear care, or other problems your dog is prone to.
Ask your vet if she knows a care provider in your destination area, and put that information into your phone, along with the phone number and address of the nearest emergency vet.  It's like an umbrella: if you have it handy, you won't need it!
Lost and Found
When was the last time you updated your contact information with your dog's  microchip company?   I recommend a mobile phone number to be on file as the "primary" number, since you won't be home.
In my years of volunteering with local shelters, many, many lost pets came in with microchips, but had owner information that was either missing entirely, or long out of date. Make a quick reunion possible!
You can also get a collar with your cell phone number embroidered right on it–much easier to read from a distance than a small tag dangling from your dog's neck!
Make sure you have current photos of your dog, front and side views.  Those cute pictures with her dressed up as Santa in a big red suit and hat and beard might be adorable, but they won't help people get her back to you.

Accommodations
If you're traveling with a dog, you'll want to plan your accommodations extra early. Hotels, inns, and rental properties that welcome pets are in high demand come summertime.  Make a quick call to ensure you won't be affected by breed or size restrictions, or other requirements that might fall outside your "normal".
Now's also a good time to think through your adventure plans, and investigate dog care options if you want to do "all day" things that may not include your buddy.  Some amusement parks have climate controlled kennel rooms, or you may want to look into a local pet sitter or walker.  Your hotel or rental agency can often be a good source for leads.
Getting there
How will your dog travel?  In a crate? (Do you have room for a crate that's big enough for your dog?) With a seatbelt?  It's safest for your dog to be confined or attached in some way, and some states now have laws that require dogs to be restrained when riding in cars. (
click here to see a list
) Don't assume your dog is fine riding "wherever"!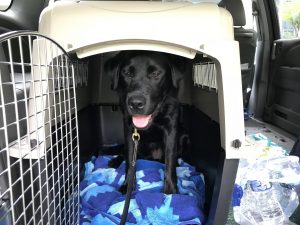 Will you have room for your luggage too? Dogs and all their "stuff" can take up as much room as an additional person. Do you need to get extra luggage storage for the roof of your car?
Start planning your route now:  will there be places to stop for potty/leg stretching breaks?  How about meal stops? In the heat of the summer, you won't be able to leave your dog in the car while you go enjoy a meal indoors somewhere, so either plan takeout, or pack a nice picnic lunch!
Best behavior
We'll discuss specific training in future posts, but it's time to get back on the wagon, folks!
If you've let things slide, start making standards of behavior and good manners a part of your dog's life again NOW.  It can take several days, to weeks, to convince him "this is your new/old normal, and we're going to follow through." You really want to be well past any resistance when you're trying to relax and enjoy yourselves.
If you need to book some sessions with a pro, look into that now; most are very busy this time of year and it may well take you a week or two to get in.
Tackle one or two of these tasks per day, and you'll be all set! Check back next week, as our series continues with Training for Travel!